New Milford's Water Removal Team Describes Different Types of Extraction Equipment
7/8/2018 (Permalink)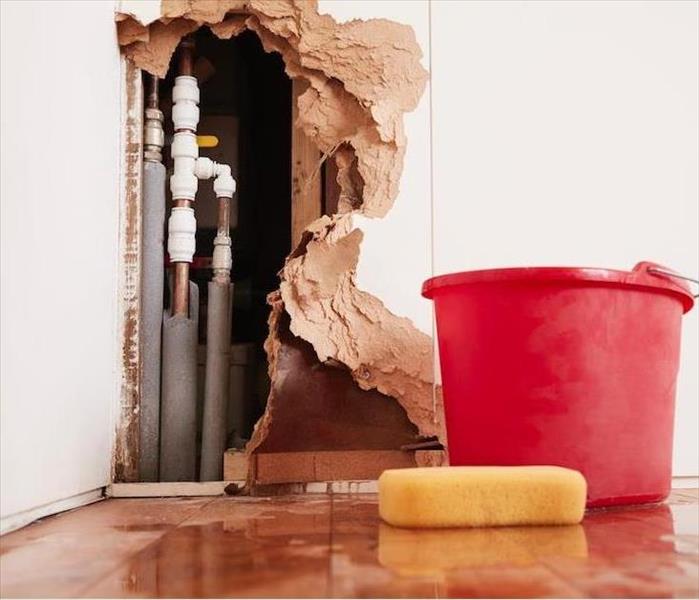 Whether water damage is external or internal, from burst pipes or clogged toilets, the technicians at SERVPRO effectively dry out your home.
Team SERVPRO Arrives With the Technicians and Equipment to Dry Out Your Property After Water Damage
Any time water leaks into a building in New Milford, removing the moisture promptly can prevent mold development. Since fungi need excessive moisture to form, lowering levels within 48 hours is essential. When dealing with wet building materials and contents specialized extraction and drying equipment gets implemented. During the extraction phase, heavy-duty vacuum systems pull out as much water out of items as they can. After extraction, air movers and dehumidifiers then work to dry out the remaining wet substances.

The goal when beginning any extraction process is to remove standing water and the water from any materials that are saturated. When starting water removal in New Milford, moisture sensors get used to test materials inside your home. A carpet moisture sensor is often used when our SERVPRO technicians first figure out where the affected areas are. The sensor consists of a metal pole with two probes on the bottom. The probes get stuck into a building's carpeting, and a light flashes and buzzer sounds if the region is wet.

Once our SERVPRO crew finds out which areas of the house got wet, we decide on what tools to use for the extraction phase. The major part of any extraction system is the extractor or machine that contains the vacuum motor used to pull up water. Some extractors are portable and are used to get into tight spaces where hoses cannot reach. Other extractors are truck-mounted and also used for restorative carpet cleaning.

If there are two inches or more standing water present anywhere inside your home, our SERVPRO team uses a submersible pump that gets dropped into the water. The pump then sucks up the water and pumps it into a sewer drain such as your toilet. After standing water gets removed, we extract moisture from flooring, carpeting, and furniture containing upholstery.

When extracting moisture from most flooring materials and some carpets, a medium-sized extraction tool gets implemented. If we have to pull water from furniture items like couches, we can use a smaller handheld extraction tool to get into small sections of the couch. If thick carpet materials get heavily saturated, then we can use a heavy-duty, weighted extraction system. When operators use these systems, our technicians stand on top of and ride the machine. The tool uses the weight from the operator to compress the carpet fibers, allowing more moisture to come out of the material.

In most cases, a variety of different types of equipment get utilized to remove moisture from the various materials that exist inside your home. Any time you need assistance with extracting water out of your house, call SERVPRO of Teaneck / Englewood at (201) 266-0482 24/7.

Click here for more information on the city of New Milford.