Putting Everything Back Together After Flood Damage in Tenafly Homes
3/15/2018 (Permalink)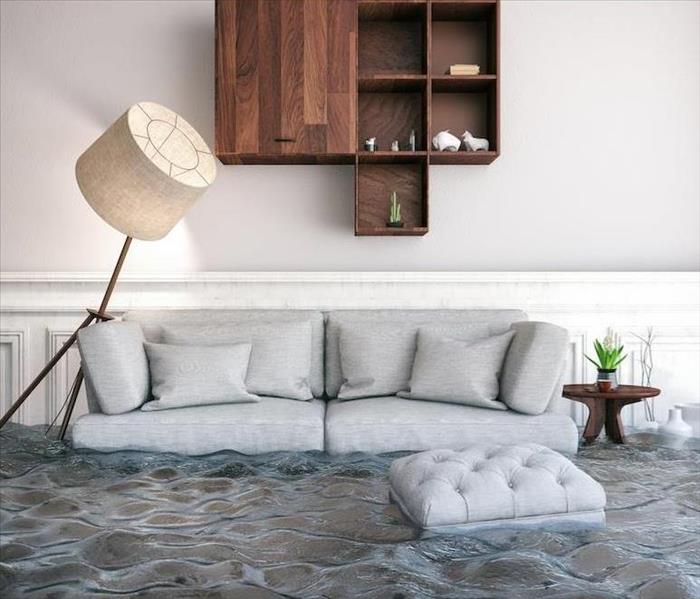 If your home is facing a flooding situation, get to safety with your family and pets. After that, contact SERVPRO to dry out your flooded home.
Certified SERVPRO Technicians Quickly Dry Out Your Home as a First Step Towards Flood Damage Remediation
Floods are the least predictable natural disasters that can hit a home in terms of the damage they can cause. In some cases, it is possible to salvage the home even if the homeowner has to get rid of some appliances, furniture, and items such as curtains and carpeting. In other cases, the homeowners may incur tens or even hundreds of thousands of dollars in damages. Worse still, mold may start growing behind walls and other places that are prone to water damage.

If you find your home in a flood damage situation in Tenafly, SERVPRO has experienced restoration experts that can respond quickly to your emergency. We follow IICRC guidelines in every cleanup job, and our equipment is up to par with industry standards. Our aim is to help you get your property to preloss conditions quickly and efficiently.

Flood damage often comes with chemical toxins, sewage, bacteria, and mud when the flood water disrupts sewage disposal systems and causes chemical spillage and overflow of waste sites. Porous materials absorb the water, but the contaminants stay behind and may present serious health issues. As such, it is advisable to discard porous materials such as vinyl flooring, upholstered furniture, mattresses, rugs, and carpeting, especially if they have been underwater for more than 24 hours.

SERVPRO technicians use various techniques to clean, disinfect, and dry salvageable items and fixtures. This includes those made of concrete, plastic, porcelain, and glass. For safety purposes, nobody should enter the house if the ground is still wet and the power supply is turned on at the mains. Indeed, apart from causing water damage, flooding can increase the risk of fire through the electrically charged water.

Electronics such as dishwashers, washing machines, and DVD players should be professionally cleaned following a flood damage event. The toxins and sediments from the floodwater are extremely difficult to remove. Some of these devices may not even be salvageable in the event of severe water damage.

Getting your home back to normal after a flooding event can seem impossible. As a part of your community, SERVPRO of Teaneck / Englewood is available 24/7 to provide quick and efficient flood damage cleanup services. Call us anytime at (201) 266-0482.

Click here for more information about the city of Tenafly.