Combatting Commercial Mold Damage in Your Englewood Warehouse
2/19/2018 (Permalink)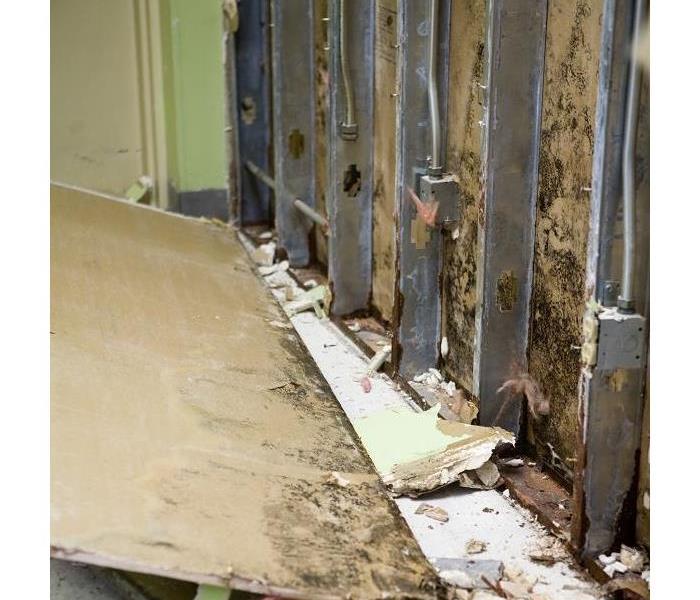 When moisture forms on surfaces, any microbes present can become active and begin to grow and spread.
SERVPRO Offers Thorough Commercial Mold Remediation
Mold can grow anywhere and on almost any material, including the metal sheeting used in many Englewood warehouses. When condensation forms on surfaces, any microbes present easily become active, quickly growing and multiplying.
When temperature fluctuations occur in Englewood warehouses, commercial mold damage can get a boost because of the gathering of moisture droplets on metal surfaces. Because moisture tends to accumulate in the same locations repeatedly, any microbes in the area receive an ongoing supply that permits continual growth. These microorganisms continue to grow and soon reproduce via the release of spores into the air.
Once in the air, spores travel along the air currents already in the warehouse. If these spores land in a spot that contains moisture, new growth can rapidly happen. The mold remediation experts at SERVPRO hold certificates from the IICRC. Mold damage can affect not only your building but the contents inside. Removing mold growths found on non-porous items helps to reduce the overall microbial population.
At SERVPRO, we understand that any interruption of your warehouse operations by either our working on-site or the effects mold causes to your inventory can create severe financial trouble for your business. Our workers receive training on how to best work alongside our customers' employees in all types of situations. When finished products and raw materials become covered in mold, extraction methods using HEPA-filtered vacuums can often provide excellent results. However, at times, new packaging can work better. Cleaning inventory may not suffice in some situations. Reboxing and rebagging of items may provide much better results.
No matter what your warehouse' unique needs might be, SERVPRO of Teaneck / Englewood can help provide the services needed. Our Applied Microbial Remediation Technician (AMRT) is always ready to help ensure the best handling of your facility to contain any size mold damage situation. Contact us at (201) 266-0482, day or night, 365 days a year so we can start remediation services.
Click here for more on the city of Englewood.