Home Furnishing Store in Bergen County Needs Multifaceted Water Damage Remediation
1/4/2018 (Permalink)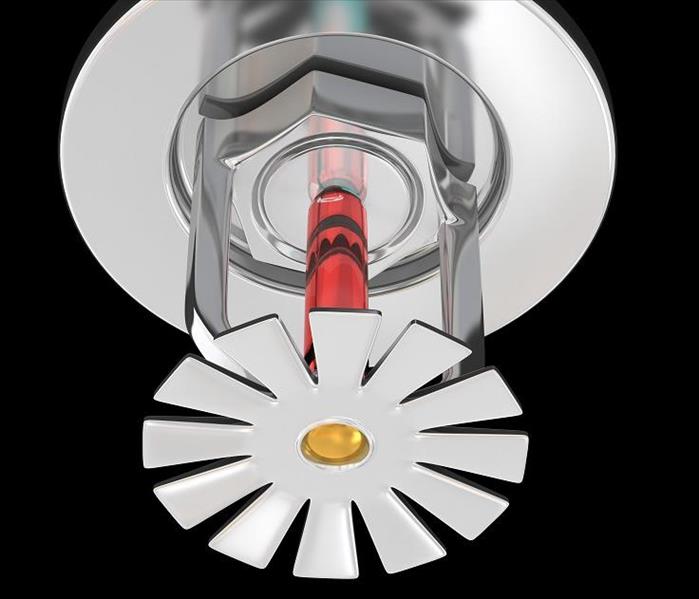 If the sprinkler system goes off and causes water damage to your commercial space, call SERVPRO to remediate the damage.
SERVPRO Offers Professional and Thorough Water Damage Remediation Services to Large Commercial Spaces
Some of the automatic safety features in modern commercial buildings can cause unanticipated adverse outcomes. Systems intended to monitor smoke and heat in a Bergen County retail outlet may misinterpret data received and commence a response that is damaging to the business or retail space. A professional restoration effort offers the best outcome when such a miscommunication happens.
A modular furnishing and household goods warehouse store in Bergen County deals with significant water damage throughout the several levels of the business after the sprinkler system activates due to a malfunction. Thousands of gallons of water spray walls, floors, and sample furnishings. Appliances, housewares, and linens all suffer water damage. We have the training and the experience to manage this type of large-scale commercial water damage.
SERVPRO sends seasoned project managers and crews to evaluate the tasks needed to resolve this complicated situation. Structural water damage restoration requires a process that starts with water removal and ends with appropriately planned drying of building material and fixtures. We use pumps and extractors and then plot out a strategy of air mover, heater, and dehumidifier positioning to reduce the remaining moisture content quickly. Members of our crew consistently and continuously monitor moisture levels to ensure we meet our drying goals. The large scale of the drying plan is managed by designating sectors and ensuring employees in each sector communicate progress to the project management team.
As we work on the structural water damage issues with a portion of our workforce, other SERVPRO crews devise ways to stage the damaged contents, so appropriate decisions to restore, discard, or take another approach are made department by department. Packing out some of the inventory to a dry area within the commercial building or off-site is likely as options are reviewed by the business and its insurers.
Water damage evaluation of the contents and inventory requires collaboration among our crews, local and corporate business management representatives, and the company's insurance carriers. SERVPRO offers a range of specialized water damage and drying services. Some are completed off-site like document freeze-drying, laundering, and dry cleaning. Others happen at the commercial site, including cleaning and drying of non-porous furnishings and household goods.
Using a full-spectrum restoration company like SERVPRO is a wise decision, even if a business is tempted to use its in-house staff or cleaning service. We have the certified technicians and equipment onboard at the time of the crisis. We also have access to help from a nationwide network of other experienced and well-equipped restoration companies if additional help is needed. No on the job training in water damage repair is necessary as we prepare routinely for this kind of a disaster.
When sprinkler systems threaten to ruin rather than save your retail business, SERVPRO of Teaneck / Englewood is ready to respond. Call (201) 266-0482 to have a scalable team of water damage experts on-site as soon as possible.
Click here for more information regarding Bergen County.