Fire Damage and Soot Damage Restoration Services in Bergen County
11/22/2017 (Permalink)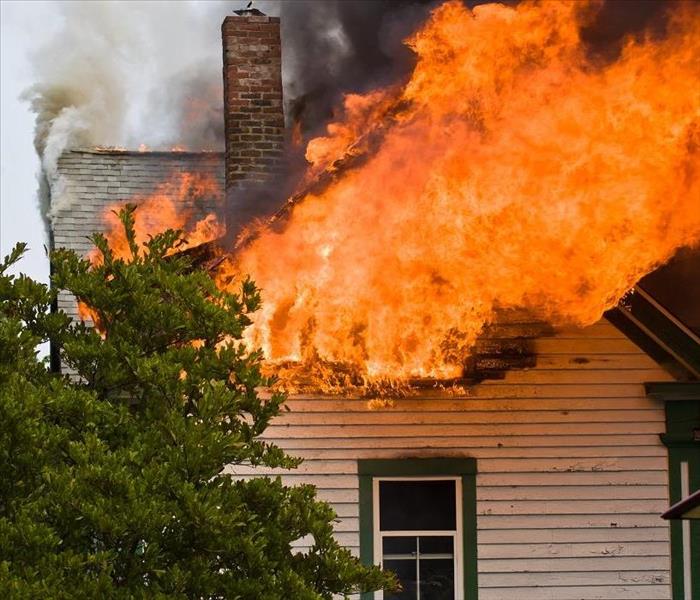 It is important to call SERVPRO immediately after the fire is out to minimize the extent of the damage.
Call on SERVPRO for Reliable Fire Damage Restoration Services
Fire and soot damage can leave your property in an unsightly state, not to mention the possible odor and secondary damage because of the acidic nature of soot. Fortunately, there are several things Bergen County homeowners can do to deal with the situation. This involves engaging professional restoration services to ensure a proper cleanup process and maintain the structural integrity of your property.
In the event of a fire emergency in your home, you need to act quickly to minimize the extent of the damage. SERVPRO has many years of experience in fire damage restoration, and we are strategically located to respond quickly to any emergency in Bergen County. Our IICRC-certified technicians are available 24/7, every day of the year to ensure that you do not lose valuable items when a fire occurs.
Soot damage is common after a fire and usually appears as a black powdery substance due to incomplete combustion. Tiny soot particles can stick to building contents and surfaces such as walls and ceilings in the aftermath of a fire. Soot residue is difficult (and sometimes impossible) to cleanup, especially when using the wrong methods.
SERVPRO technicians are professionally trained to deal with the two main types of soot after fire damage -- dry and oily. Dry soot is relatively easy to remove, but oily soot often requires using degreasing agents. It is common to find dry soot in one room and oily in another when treating fire damage and soot damage. It all varies with the types of materials involved.
SERVPRO professionals carry a number of products that are specially designed for soot removal from different surfaces. Sometimes, depending on the nature of the item or the severity of the fire and soot damage, removing the soot residue may not be possible, and we may have to discard that item. Of course, we must first check with you, the property owner, before making this decision.
Smoke odor may linger in carpets, clothing, upholstered furniture, and draperies when fire damage occurs. To get rid of this smell, we must apply proper deodorization techniques. This includes using chemicals and "counteractants" that disintegrate smoke particles to eliminate odors. The specific type of product we use depends on the kind of material that was burned in the fire. However, our products are applicable to all sorts of items, including carpets, draperies, and furniture.
The presence of fire damage in the house can significantly affect the mood of its occupants. If you need quick and reliable fire damage restoration services, SERVPRO of Teaneck / Englewood is there to help. We are available 24/7 at (201) 266-0482.
Click here for more information regarding Bergen County.