Who is Available for Water Damage Repairs in Teaneck During the Winter?
1/2/2022 (Permalink)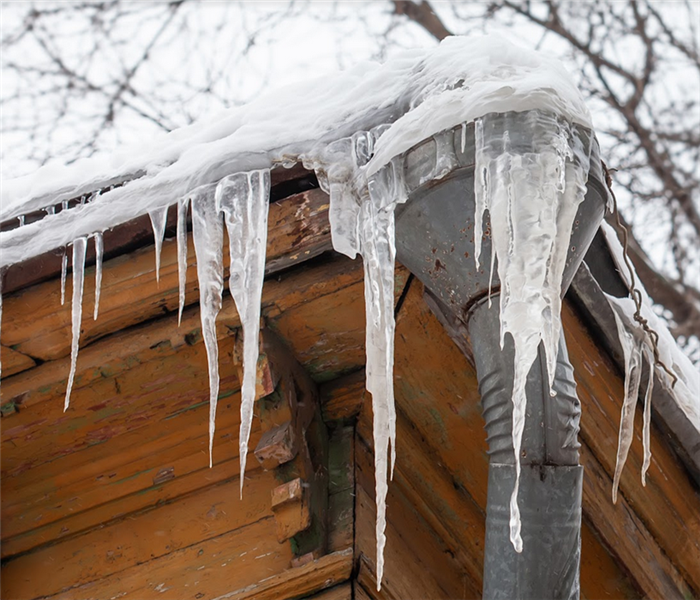 Dealing with frozen pipes and resulting water damage will most often catch you off guard. Contact our SERVPRO team for a custom plan for you.
SERVPRO Can Offer Water Removal Services in Teaneck Year Round
When most people think of storm-related water damage issues, they think of the brutal thunderstorms and potential flooding in the spring and summer months. However, just because the flooding season has ended does not mean Mother Nature will not throw other curveballs that could cause you property damage. When the weather gets cold and the snow starts to fly, there are different weather issues that you need to be aware of.
Frozen pipes and ice damming in Teaneck are probably the two most common sources of water damage during the fall and winter months. When it gets cold enough for pipes to freeze, they could break and cause moisture to leak. Ice dams can form on your roof and force water to pour in from your ceiling.
Any time H2O enters your dwelling from the outdoors, it is wise to call in a professional restoration company like SERVPRO. Our highly trained team is certified by the Institute of Inspection, Cleaning, and Restoration Certification (IICRC) program. We can provide fast, 24/7 service and conduct the following operations using the industry's most advanced technology:
Water Extraction Services
Applied Structural Drying (ASD)
Water Damage Debris Removal
Black Mold Inspections
If your house has had problems with your pipes freezing and breaking in the past, it is a good idea to cover your water lines with foam insulation. Wrapping your pipes with UL-endorsed heat tape is also an excellent way to keep the water running through them warm. Other permanent fixes like thermal convection-powered hot water recirculation valves or a Redy Temp system can also prove to be useful.
One way to prevent ice dams from forming is to lay heated cables in a zigzag pattern on the part of your roof that hangs past your walls. Laying weather-proof sheeting underneath your shingles that extends past the edge could also help prevent ice dams.
If you ever notice a water leak in the wintertime, call SERVPRO of Teaneck / Englewood at (201) 266-0482.