What are the Steps to Cleaning Up Fire Damage From a Furnace Malfunction in Teaneck Homes?
10/27/2021 (Permalink)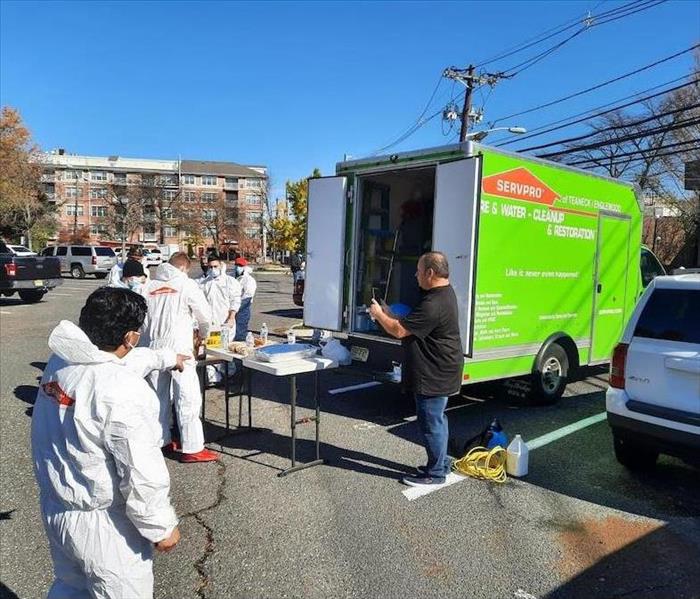 Smoke and soot damage from a fire is no DIY project. SERVPRO techs have the training and experience for every size fire damage restoration project.
SERVPRO Techs Have Both Training and Experience for Fire and Smoke Damage Restoration in Teaneck Properties
Fire damage in Teaneck properties does not just happen from flames. Smoke damage from a puff back incident can blow smelly soot throughout a home and cover all the surfaces in each room.
SERVPRO technicians know that a puff back causing fire damage in a Teaneck home can be as stressful to see the aftermath of as a house fire. The soot blows with force through every vent in the house and leaves behind a huge amount of smoke damage. A typical puff back occurring in a bedroom would coat the nightstands, floors, walls, and ceilings with soot. It would also affect the bedding, rugs, and window treatments. The room will need a top to bottom deep cleaning. Common cleanup tactics for this type of damage include:
Removal of visible soot
Using Esporta Washing System for washable fabrics
Immersion cleaning for non-porous articles
Restoration of furnishings affected by soot
Cleaning of the ductwork in the home
A puff back happens when an oil or gas furnace or fireplace backfires. There are two basic types of puff backs; the first type happens in one action and blows smoke and debris throughout the ductwork, landing in any home area with a vent. Another kind of puff back is not rapid and slowly leaks soot into the home. An annual inspection is the best way to avoid this scenario, but sudden malfunctions may still occur.
One thing a puff back is not is a DIY cleanup project. According to the class, this type of smoke damage may leave sticky residues or light coatings of soot, and the smoke damage needs to be cleaned in specific ways. Wetting down soot can drive it more deeply within or mar a surface. SERVPRO technicians have the knowledge and experience to test the residues and the surface to choose the correct cleaning agent and method for the best outcome.
Puff back residue often appears to be spider-like webs in corners and ceiling areas of a home. The electric charges produce this effect. Do not be fooled into thinking that this is an easy cleanup.
SERVPRO of Teaneck / Englewood at (201) 266-0482 is available 24/7 for fire damage restoration services in Teaneck properties.