Water Damage from a Leaking Skylight in Your Teaneck Home
9/6/2021 (Permalink)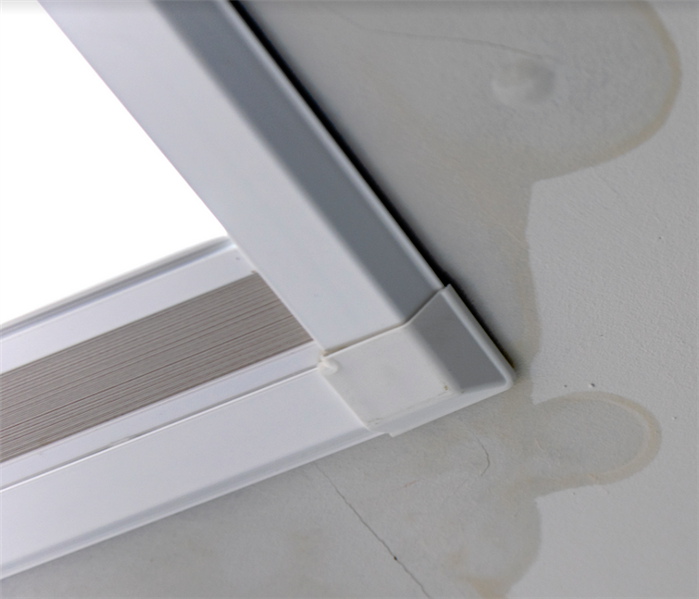 Skylights are beautiful but need to be maintained well or leaks can develop. Contact SERVPRO should your home be affected by water damage.
SERVPRO Technicians Receive Training and Have Years of Experience Drying out Homes After Water Damage
Having a skylight in your Teaneck home is a great way to allow natural sunlight in almost any room. However, if it is installed improperly or is not maintained, the skylight can develop leaks. A leak like this can cause numerous problems for you as the homeowner, including severe damage to your property. Leaking skylights need to be repaired as soon as possible to minimize the damage and stop the leak from spreading.
Leaking Skylight From Storms
If you have discovered any leaking coming from the skylight in your home, getting it fixed and any water damage in Teaneck repaired, it is essential to act upon it quickly. Water damage can promptly create other problems such as mold growth, plus the leak can keep spreading. Our SERVPRO staff can help you anytime you need. We are professionally trained to handle all kinds of water damage situations in a timely fashion.
Airflow is one of the essential tools that we use. Drying your home requires that we use the right techniques for using airflow. If we place the air mover, so it blows directly into a wall, air not only bounces back but it forces moisture into the wall, which is not good. On the other hand, if the air mover is angled at forty-five degrees, the air bounces off the wall, and the moisture is replaced with drier air after it is carried away.
SERVPRO techs use a clockwise pattern to position the air movers, facing the inlet at the wall and with the nose touching the wall. We ensure all of the walls affected are in the air stream. To do this, we might place additional air movers in closets, offsets, and windows. Every time we monitor the equipment, we move the machines to the left or right in a circular pattern, so the structure dries evenly.
We also need to dry the ceiling. Airflow has to be directed across the wet ceiling to evaporate the moisture. Directing the airflow over the area circulates the warm air which has risen to the ceiling. With drop ceilings, we open a few panels on each end and direct the airflow into the open areas.
SERVPRO of Teaneck/Englewood takes the time to ensure your home in Tenafly, New Milford, or Teaneck is thoroughly dry after a water damage disaster. When you contact us at (201) 266-0482, you can be sure that your home is in good hands.