Fire Damage To Your Englewood Home
3/26/2021 (Permalink)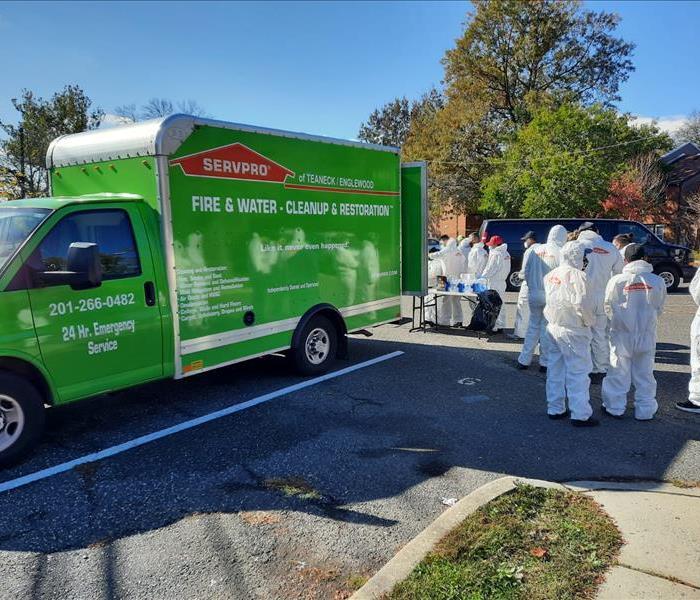 Fire damage restoration is no easy task. Call SERVPRO for the experienced help you need for your home.
SERVPRO can help with fire damage restorations in Englewood
Englewood, New Jersey, has always been a popular area due to its proximity to New York City. People have settled in the area since the early 1600s, but it did not officially get incorporated as a city until 1899. Since then, the town has grown to have a population of around 27,000.
Several places to go to learn about history
Since the city has been around for so long, there are plenty of historical sites to check out. The following places in Englewood are on the National Register of Historic Places:
John G. Benson House: This site at 60 Grand Avenue serves as an excellent example of what Dutch colonial homes looked like after the Revolutionary War.
Thomas Demarest House: This house at 228 Grand Avenue was built in 1808, and it now is part of the senior citizens center.
St. Paul's Episcopal Church: This gorgeous building at 113 Engle Street still belongs to the Episcopal Diocese of Newark, and it was built in 1866.
Peter Westervelt House and Barn: This house was also built in 1808, and the house section of the property still stands after the barn was demolished.
Home to other must-see attractions
Englewood also has several other things to do in town. Locals and visitors alike find the following places enjoyable to visit:
Bergen Arts Performing Center: This art center is one of the best places in the region to watch a live play or musical performance. The center has an auditorium that can seat over 1,300 people, a smaller Black Box Theatre, and the Drapkin Cabaret & Lounge. People can also take several classes at the center's performing arts school, including voice, music, theater, and dance.
Gotham Dream Cars: This car rental chain offers anyone a chance to rent a luxury car for a day or week-long cruise. The agency has been around since 2004, and it has other locations in cities like New York, Los Angeles, and Miami. People can rent cars made from manufacturers like Lamborghini, Porsche, Ferrari, Bentley, Rolls Royce, and Aston Martin.
Flat Rock Brook Nature Center: This property located on the Palisades' western slope is 150 acres and was established in 1973 for land conservation and environmental education. The nature center contains over three miles of trails that run through wetlands, quarry cliffs, woodlands, and wildflower meadows.
SERVPRO can help repair fire damaged homes
During many house fire clean-up operations, a major problem tends to be the presence of burnt fragrances. After we remove all soot residues and burnt materials, we can then start with deodorization procedures.
One excellent way to remove foul odors is to utilize an Ultra-Low Volume (ULV) mister. Using a ULV fogger has the following benefits:
A ULV fogger can break down water-based deodorants to 20 to 60 microns in size to aid in smoke remediation.
The misters can assist in restoring smoke damage by deodorizing and sealing air-handling systems and ventilation ducts.
Since we can use the fogger in areas with a large surface area, it can help with fire restoration in attics and crawl spaces.
If you ever need your home deodorized after a fire, call SERVPRO of Teaneck / Englewood at (201) 266-0482.