How Does Water Get Removed from Difficult Areas in My Teaneck Home?
8/24/2020 (Permalink)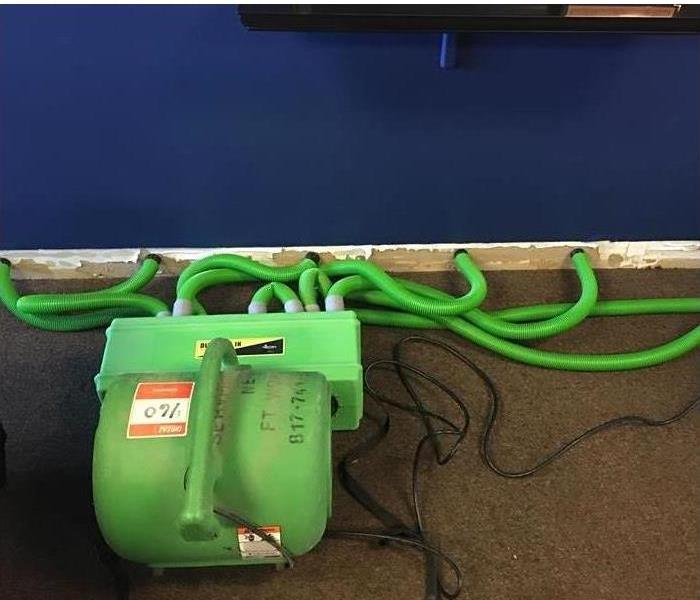 Walls and Hardwood Flooring Benefit from SERVPRO's Advanced Equipment Like this Injecti-Dry to Restore Water Damaged Teaneck Homes to a Dry State
Challenging water removal obstacles require specialty tools and approaches to overcome.

Water damages can result from multiple sources, making the affected materials and contents in your Teaneck home particular to your disaster. A careful evaluation of these circumstances can show what steps are necessary to protect as much of the structure as possible. Many property losses involving water exposure worsen considerably after two days, making it vital to do the most to remove standing water and trapped moisture at this time. There are several areas within the house where this might be problematic.
When it comes to water removal in Teaneck homes and businesses, many strategies go beyond the surface damage. While our SERVPRO of Teaneck / Englewood team has several extraction units that can remove standing water from pooling on flooring and absorbing into wall systems, the movement of water in the structure most often goes well beyond the areas that you can see. Inaccessible locations require specialty tools and approaches to dry and restore.
How Challenging is Removing Water from Hardwood Floors?

Because hardwood flooring is such a typical material in New Jersey homes, we have to prepare for these structural elements with water removal solutions in an emergency. Cellulose in wood planks acts as a catalyst for the absorption of standing water, which can quickly make surface damage a problem within the planks themselves and into the subflooring material underneath. Removing water damage from wood flooring often requires a combination of strategies:
Absorption – While towels and a mop cannot penetrate deeply into each plank's core, these strategies can effectively manage surface water concerns to lessen continued saturation. These are preliminary steps when more direct extraction is not necessary.
Squeegee Wand – Surface moisture concerns can also be addressed using squeegee wands attached to truck extractors or portable units.
Floor Drying Mat – The placement of drying mats can slowly absorb water from inside the planks and their seams. Any water that has not bound molecularly to the wood and begun to warp/distort the flooring can often get removed with this extraction.
How Can Carpet Drying Be More Efficient?

Removing water and drying carpeted flooring can often be a problem after water damages as well. Fibers of carpeting are highly absorbent for standing water and moisture, allowing an almost immediate oversaturation of these materials and underlying padding and subflooring. Drying out both the carpet layer and supports beneath this top layer requires direct approaches with specialty equipment and techniques, including:
Carpet Wands – Attachments like carpet wands get used with portable extractors and can remove water primarily from the upper (fiber) layer of a carpet flooring system.
Removing Padding – It is often impossible to save saturated carpet pads beneath the top layer. These can get removed to make the drying of the carpet and the subflooring faster and more thorough. The rug gets carefully handled to avoid stretching or damage to allow for reinstallation when new padding gets installed after drying.
Establish Drying Zones – Another way our SERVPRO team can efficiently dry damaged carpeted floors involves establishing drying zones with containment barriers. These enclosed spaces can be more readily regulated regarding temperature, airflow, and moisture content.
How Do You Remove Trapped Moisture in Wall Cavities?

Moisture and water damage in the wall systems can be a substantial concern for water restoration companies like our SERVPRO team. With both controlled demolition and efficient evaporative drying equipment designed to impact these structural cavities specifically, our professionals can effectively remove trapped moisture without excessive material removal and reconstruction needs. Some of the options for overcoming water damage to wall systems include:
Remove Baseboard – The baseboard can often begin to show signs of damage before other materials, even if the water damage originates in the wall cavity. Removing this trim can show the condition of the drywall.
Weep Holes – Ventilation is a crucial element to effective evaporative drying, and weep holes provide both ventilation points for one side of the wall and access points for drying equipment.
Injecti-Dry System – Using ventilation holes made behind removed baseboard trim, we can install hoses that force air through moist wall cavities and promote evaporation.
Water damages to the property can be even more challenging when these threats exist beyond the surface layers. While we have multiple extraction and drying methods, inaccessible areas require unique approaches. You can count on the valuable equipment and expertise of our SERVPRO of Teaneck / Englewood team to help by calling (201) 266-0482.