We Act Fast In Englewood After A Water Damage Disaster Strikes Your Home
1/13/2020 (Permalink)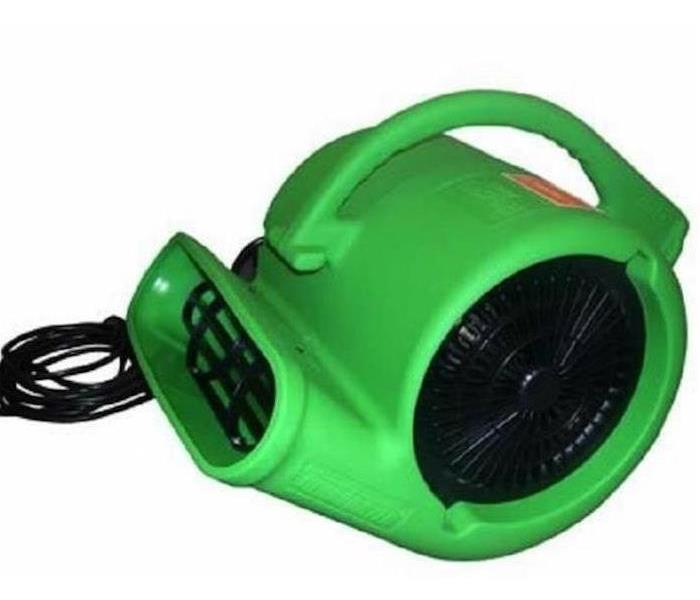 Our air mover is used along with our dehumidifying equipment to aid the drying process after water damage strikes your home.
Understanding All of the Potential Causes for Water Damage in Englewood
Most people think about water damage, and storms come to mind. While the wind and rain can bring on flooding and turn into a potential hazard, there are many other water hazards that homeowners should be cautious of. SERVPRO wants you to know all of the potential causes of damage from water throughout the home so that you understand what to expect.
Inside the home, water damage in Englewood can come from pipes that are leaking or broken, water heaters that burst or leak, or issues coming from loose pipe fittings, old fixtures, faulty appliances, and damaged sump pumps. When you live in an area where the winter temperatures drop significantly, freezing can play a significant role when it comes to damaged pipes
SERVPRO wants you to know some of the ways that you can protect your home from potential water damage throughout the colder months.
Around the outside of your home, you can:
- Drain the water from your irrigation system
- Wrap outdoor faucets
- Locate pipes entering the home and caulk around them
- Make sure that your garden hose is disconnected
Around the interior of your home, you can:
- Have a light stream of water running from faucets once the temperatures get below the freezing mark.
- Ensure your thermostat is set at a consistent temperature to prevent pipes from freezing
- Look for areas within your home where pipes and supply lines are not heated and could freeze, then insulate.
Should you have any water damage, calling our professional technicians at SERVPRO get you the help that you need, fast. We can send a team out as soon as possible to perform an assessment and get the steps worked out to start the cleanup and restoration process. If there is a burst pipe, we can talk you through turning off the water supply line until we arrive.
SERVPRO technicians use pumps and vacuums to remove water from the impacted area, then use moisture detection devices to locate any patches that may remain unseen to the naked eye. From there, we remove any materials that must be replaced, including flooring and drywall. Further drying commences by way of fans and air movers as well as dehumidifiers to ensure every last bit of moisture is gone before we restore your home to make it look "Like it never even happened."
Give us a call at SERVPRO of Teaneck/Englewood at (201) 266-0482, and we can send out a team to help with your water damage needs.
See more about Englewood.