The SERVPRO Way To Restore Your Fire Damaged Property And Contents In Bergen County
10/3/2018 (Permalink)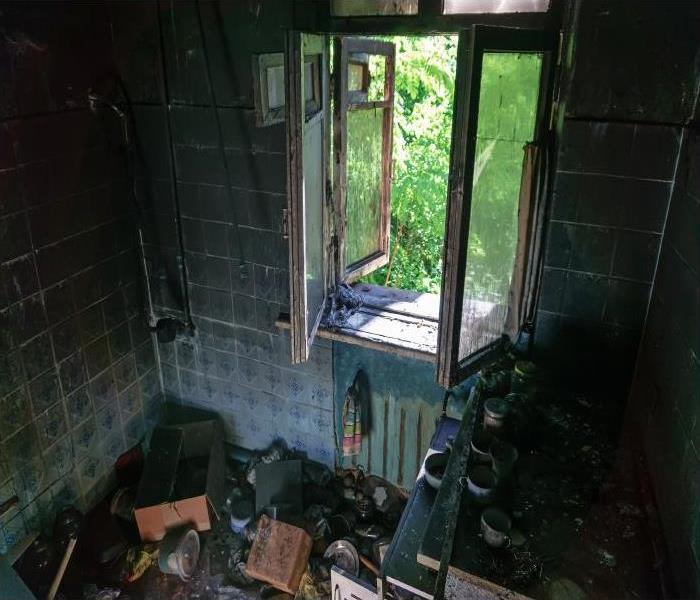 Fires are difficult enough to deal with, without enduring a long, stressful and time-consuming cleanup.
A Fast Solution To Fire Damage In Bergen County
Fires can be catastrophic, causing widespread structural damage and requiring a long, arduous rebuilding project. However, the majority of fires only cause minor to medium levels of harm which can be remediated effectively with the right tools, training, and equipment. One constant, in any scale fire, is smoke which is made up of three main parts: solid particles, gases, and aerosols.

Gases can be hazardous when a fire is burning but are far less so once a fire has been put out. The remaining parts, solid particles, and aerosols tend to stick around. When we deal with fire damage in Bergen County, it is these two components we are aiming to remove which, in everyday language, is known as soot and smoke residue.

When materials burn they release soot and smoke residue which needs to be removed from the property. The specific type of material determines whether or not it is an easy job. Synthetic materials can release thick residues that travel upwards leaving behind thick, odorous deposits. Natural materials, on the other hand, leave behind light soot.

Treating these two types of smoke the same can make a restoration service harder than it needs to be. At SERVPRO we train our technicians to identify the differences by conducting a pre-test of all smoke and soot deposits. Doing so allows us to work efficiently, using tools and equipment that has the maximum effect in the shortest time possible.

Getting your residential property back to a livable condition is part of what we do. At SERVPRO we make an effort to work around you. Sometimes we may have to cordon off an affected area to bring in specialized chemical deodorizers or establish clean spaces for thorough contents cleaning. We do this to reduce the amount of time spent working without cutting corners or leaving behind a mess.

Fires are difficult enough to deal with, without enduring a long, stressful and time-consuming cleanup. SERVPRO of Teaneck / Englewood is here to help. Call us at (201) 266-0482 to find your solution.
Click here for more about Bergen County.