Fire Does More than Just Burn, Mitigating Fire Damage in New Milford
8/15/2018 (Permalink)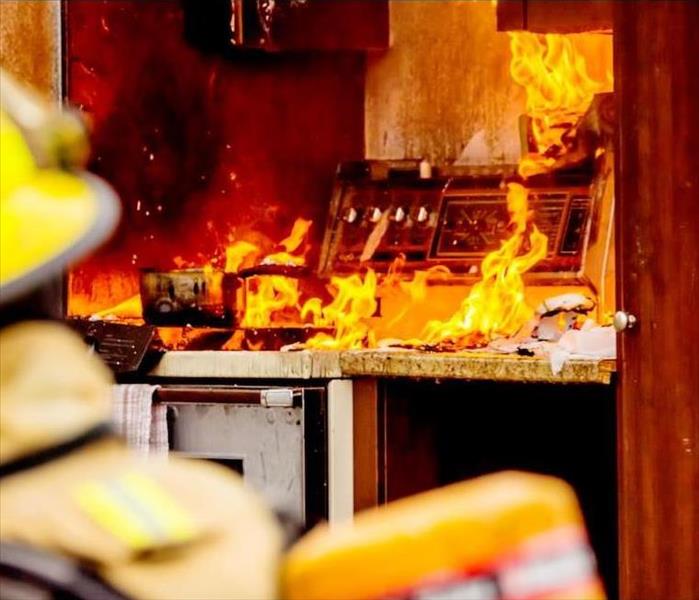 Fire can quickly spread through areas of your home. If your home suffers from fire damage, contact SERVPRO.
Team SERVPRO Understands How Fire can Damage Your Home
Although it might sound weird, when there is a fire, several things usually happen. These might not be apparent once a fire goes out but understanding them makes it easier to appreciate various aspects of proper restoration. The way the two main aspects of fires interact during the brief period the fire is on has a great impact on the kind of damage caused. With our professional restoration services, it is easier for New Milford property owners to deal with the damages.

For proper mitigation of fire damage in New Milford, an understanding of smoke behavior is important. You might think that smoke just moves from the fire source upwards then to any other unaffected areas. If this were the case, then the smoke residue would be evenly distributed which is not always the case. Smoke moves in convection currents, which means as the fire burns, hot air moves up to the ceiling forcing the cold air downwards. As these movements happen, areas with colder air tend to accumulate more smoke residue and might, therefore, require more effort during restoration even though the fire did not reach them. Our SERVPRO technicians understand this and take appropriate steps.

A fire that burns very hot, even for a short time, might leave visible heat lines. The lines have some significance to the mitigation efforts. The residue left above the heat line is harder to remove because the extreme heat opens up pores in the surface leading to penetration of the residue. Our SERVPRO technicians can remove such baked in residues easily by using cleaning products or thoroughly agitating of the surface. We have various agitation tools ranging from simple brushes or towels to the more advanced ultrasonic machines. With these, we work on any surface without causing additional damages.

Smoke ionization and magnetization also happens in some cases and especially when plastics burn. When ionized, the particles become electrically charged and therefore attracted to surfaces with an opposite charge. This attraction leads to situations where items made of synthetic materials end up with more layers of the smoke residue. Ionization also causes the formation of smoke webs on various parts of the structure.

A trained technician understands all the unusual outcomes in a fire and can take the right remediation steps. You should call SERVPRO of Teaneck/Englewood at (201) 266-0482. We are available to help you deal with any fire-related damages 24/7.

Click here for more information on the city of New Milford.